We have wonderful Kittens with deep blue eyes!
Spreewood White Edition
blue lynx point Boy - sold
Spreewood White Shadow
seal lynx point Boy - sold
Spreewood ......
tortie lynx point Girl - stay
If you are interested in one of our babies, please write to us or send us a online Inquiry

Please look on this page, which kittens are now available
Would you like to know more about our planned litters,
please Send us an e-mail

spreewood@t-online.de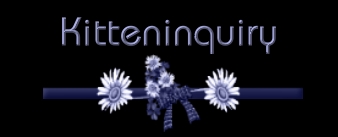 Spreewood is NOT a pet shop and we reserve the right
to place our kitties where we see fit.
Spreewood reserved the right of refusal for the
sale of any kitten pictured
on this web-page at anytime and without explanation.
Our Kittens are firmly booked only
after a deposit!
Deposits are not refunded if you reserved the kitten
and then no longer want and the Deposit
will not be transferred to other kittens,
if there is no clear reason!!!!

spreewood@t-online.de
phone +49 (0) 35433 - 59956

we do ship worldwide
Thank you for visiting Spreewood Himalayans.
Please feel free to contact me if you are looking for a Himalayan.
Here they see the babies which were born in our Cattery.
Available: This kitten is for sale.
Reserved: We have a serious buyer interested
in the kitten with no deposit given at this time.
We reserve our selves the right of refusal if another buyer
expresses interest in the kitten and
there is no commitment to the first party.
Sale Pending : Deposit paid on kitten.
This kitten will be held for the buyer until the time
full payment is due.